Mole Removal London
If you are concerned by the appearance of a mole or have a protruding mole, raised moles or facial moles you'd like removed for cosmetic reasons, then get in touch with Dr Haus Dermatology for specialist mole removal in London.
Our mole removal services are led by dermatologists with years of experience in mole removal. They will perform a mole check of other moles to make sure there are no suspicious moles, as early detection saves lives when it comes to skin cancers.
You'll have total peace of mind after a mole removal appointment with Dr Haus Dermatology, as well as smoother, blemish-free skin following your expert mole removal.
Contact us about mole removal London to book a consultation today. Telephone 020 7935 6358, email us at [email protected] or contact us via the link below.
CONTACT US for mole removal in London.
Why choose private mole removal treatment?
Moles and skin lesions appear in all shapes and sizes, and most are completely benign or harmless. However sometimes a mole or lesion starts to change shape, size or colour, and that is when it is important to get a mole checked as soon as possible.
Many people choose private mole removal in London when they wish to see a dermatologist immediately about suspicious moles or a new mole rather than wait for an NHS appointment.
For any suspicious-looking lesions or moles that could be considered potentially dangerous, our experienced dermatologists can quickly remove them and send the specimen for external analysis.
Contact us about removing moles without delay – book an appointment.
When should you be worried about a mole?
Moles can vary in colour, size and shape – and can also change their appearance over time. It is important to know if they are a cause for concern or purely cosmetic blemishes.
Moles are usually circular and brown, though they can be flesh-coloured, pink, black or blue.
More than the type of mole, of greater concern is when they start to change – perhaps growing bigger, pigment cells changing colour, or moles becoming itchy and starting to scab or bleed.
Moles that are changing or have changed in appearance should be checked out, whether by a GP or at a clinic such as Dr Haus Dermatology. You should also pay special attention to a new mole.
The risk is that a changing mole can be a sign of developing malignant melanoma, a type of skin cancer, which should be treated early. Quick action and removal of the entire mole is recommended in such circumstances.
If you are worried about a mole and would like to book a mole check or mole removal, get in touch with Dr Haus Dermatology in London today:
Call  +44 20 7935 6358 or CONTACT US via our website.
Cosmetic mole removal London
Most moles are harmless, and harmless moles are not usually treated on the NHS. However, even when a mole may be harmless, there are several reasons people choose to opt to remove moles for cosmetic reasons. 
Moles can be uncomfortable, snag on clothing, get cut while shaving or combing hair, or simply rub. And some moles can be unsightly and lead to lower self-confidence and self-esteem.
At Dr Haus Dermatology in London, removing moles is a safe and simple procedure. There are a few treatment options for mole removal and we'll guide you through these below. Some are the same as skin tag removal, which can be done at the same time.
Cosmetic mole removal: book your appointment today.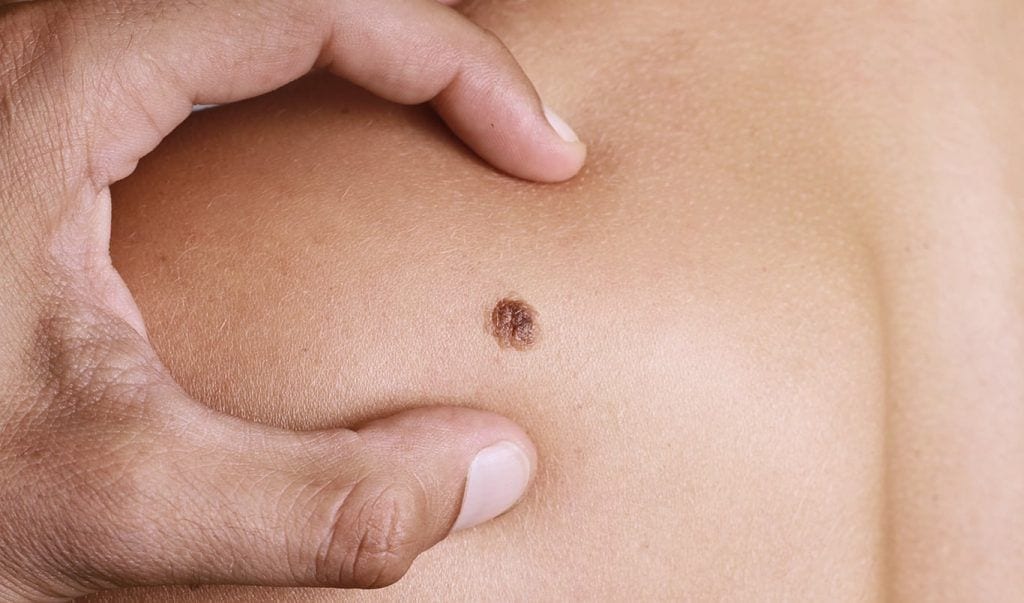 What to expect from our mole removal services
We are more than mole removal experts in London. At Dr Haus Dermatology, our Mole Clinic offers you the following services with a specialist doctor.
Mole Checks A mole check consists of an initial consultation with a dermatologist where they will ask you questions about your general health and lifestyle, and carry out an in-depth examination of your moles.
Dermoscopy If there are any moles that the dermatologist is concerned about they will use a high-powered skin surface microscope to check for signs of melanoma and non-melanoma skin cancer.
Mole Mapping A comprehensive, computer controlled 'mole map' of your entire body.  Our mole mapping technology allows us to spot even subtle changes to moles over time, which can provide an early detection system for skin cancer.
Histology Once removed the mole will be sent for histology analysis to check whether the mole is cancerous or not and whether there are any abnormal cells. Your results will usually be available within 72 hours for peace of mind.
Dermatologist Report Every mole check is carried out by a dermatologist and you will be provided with a full report on findings from your mole map as well as recommendations for any further treatment required.
We are also able to examine and diagnose all other skin lesions including skin tags and skin lumps, and will remove them if necessary in tandem with mole removal London.
Get in touch with us for mole removal – call  020 7935 6358 or CONTACT US via our website.
The mole removal procedure
There are several mole removal procedures, depending on the characteristics of the mole and the preferences of the patient. Here are some techniques used to remove moles at a dermatology clinic:
Shave excision

: For raised moles that do not extend deep into the skin, a dermatologist may choose to perform a shave excision or shave removal. With shave excision, the area around the mole is numbed with local anaesthetic and a small blade is used to shave off the mole's raised portion, leaving the skin surface smooth. Stitches may or may not be necessary with shave excision, and the procedure should feel completely painless, with minimal scarring.
Surgical excision

: Mole removal surgery or surgical excision involves numbing the area around the mole with a local anaesthetic and surgically removing the mole and a small margin of healthy surrounding skin. Surgical excision or surgical removal of moles is sometimes performed by plastic surgeons and may leave minimal scarring or a small scar.

Laser mole removal

: Laser technology can be used to remove certain types of moles. The laser emits an intense beam of light that targets the pigmented cells of the mole, breaking them apart. Laser removal is generally suitable for smaller and non-cancerous moles located on the surface of the skin.

Cryotherapy

: This technique involves freezing the mole with liquid nitrogen, which destroys the mole cells. The dermatologist applies the liquid nitrogen using a cotton-tipped applicator or a spray. Cryotherapy is commonly used for smaller moles and may require multiple treatment sessions.

Electrocautery

: In this procedure, the dermatologist uses an electric current to burn off the mole. After applying a local anaesthetic, a heated wire or needle is used to remove the mole tissue. Electrocautery is often used for small and superficial moles.
Mole removal is usually a simple procedure that's quick and normally pain-free. There should be minimal scarring and it's unlikely you'll require mole removal leave from work or regular activities.
If you'd like to see a specialist doctor about mole removal in London, call 020 7935 6358 or send a message via our website.
Mole removal in London: CONTACT US for a mole check appointment.
Mole removal cost
Mole removal costs need not be expensive as most often having moles removed in a dermatology clinic is a simple and straightforward procedure, often taking under half an hour.
Having moles checked by a specialist doctor, along with our mole mapping service, can provide valuable peace of mind. Early detection of skin cancers through a mole check can prove to be priceless.
Costs for our mole removal services will be discussed in your consultation. You can also have skin tag removal while having moles removed.
Book your mole removal in London
If you are concerned by the appearance of a particular mole or skin lesion, would like the peace of mind of having moles professionally examined by a dermatologist, or you wish to remove a mole for cosmetic reasons, then Dr Haus Dermatologists are the medical specialists who can help.
Please telephone us on 020 7935 6358, send us an enquiry on the Contact Us Page or send an email to [email protected] if you'd like your mole removed or for mole checks in London.
Our dermatology clinic is conveniently located in Harley Street in the heart of London, easily accessible by public transport, including Regent's Park underground station, Great Portland Street, Warren Street, Baker Street and London buses.

Dr Haus Dermatology
75 Harley Street,
London W1G 8QL