Our CoolSculpting Treatment is reviewed by Women's Health Magazine!
Are you bothered by stubborn body fat that is difficult to lose through just diet or exercise?
Our CoolSculpting in London Treatment for non-surgical fat removal was recently reviewed by Women's Health Magazine, who sent in one of their reviewers to try the treatment at our clinic on Harley Street in London.  Have a look what they said about the treatment on their thighs and how impressed they were with the results!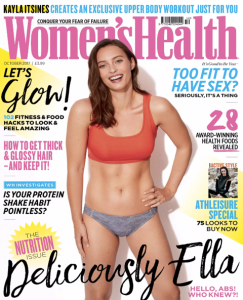 "Lying on a bed in Dr Ariel Haus' Harley Street clinic with two-white coated consultants struggling to strap a machine to my slippery, lubed-up, clingfilm-clad thighs, I wouldn't say I was brimming with confidence that this so-called fat-freezing would be a roaring success… Despite stepping up my training over the past year and going easy on the chocolate, I'm a pear shape through and through and my bum and thighs boast a layer of fat i just can't budge.  I would never consider going under the knife to get rid of it, but CoolSculpting seems like a happy medium: sayonara, saddlebags sans surgery… Ever the cynic, I wasn't expecting amazing results, so losing 3cm off each thigh was an absolute win…"

CoolSculpting is a tried and tested procedure with over 4 million treatments performed worldwide as at May 2015.