CoolSculpting Reviewed by Grooming Guide
"Like most guys, I favour treatments which deliver visible results and Dr Haus has done just that."
'Here at Grooming Towers, if we had to name one practitioner who we would trust to take care of our skincare woes, it would be Dr Ariel Haus. Bringing world-renowned Brazilian dermatological techniques to London, he is truly passionate about men's skin and appearance. His treatments are non-invasive, meaning that Dr Haus creates results without putting you under the knife, we're sold!
From the moment you step into Dr Haus' Harley Street clinic, you can't help but notice the air of professionalism which instantly sets you at ease, as the latest technology combined with expert hands guide you through the procedure.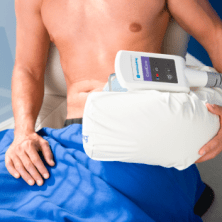 CoolSculpting is one of Dr Haus' most popular treatments in London, as the procedure uses fat freezing technology to target areas of the body, killing fat cells with targeted precision so as to leave the outer surface of the skin undamaged. Due to the unique precision of the treatment, it can be used to target different areas of the body as required.
During the treatment I did not experience any discomfort, though it was very, very cold! Afterwards, it is worth commenting that the immediate results were not the most noticeable, but the effects continued to develop over the coming weeks and months as my body naturally metabolised the dead fat cells away from the targeted areas, and the results were worth the wait!
This innovative treatment has continued to work on my body since the procedure, and it is safe to say that the results are impressive!  Like most guys, I favour treatments which deliver visible results and Dr Haus has done just that.'
The Grooming Guide