Ever dreamed of a life without your double chin?
In these times of coronavirus there have been some interesting unintended consequences. Like the fact that with spending more time at home, we may also be spending more time in front of the mirror.  If you're under 30, it's probably all good news, but if you're not, the lower face, chin and neck region can suddenly loom large as one problem area you'd like to address! Dr Haus notes:
"Of all the problems patients come to me with, the neck is the most common cause for concern.  I ask patients what I can do for them and, often, the first thing they say is 'can you do something about THIS?' [grabs both sides of his neck and pulls the skin taut for dramatic effect!]."
At Dr Haus Dermatology, our extensive experience with non-surgical neck lifts and chin and jowl firming treatments means we're experts in the field.  You can find out if you're a good candidate for treatment by reading to the end of this article, watching the video, and visiting our website for more information.  You may discover tackling 'the neck problem' is easier than you think!
The problem with saggy necks and jowls
Believe it or not, the neck starts to show signs of ageing as early as our mid to late 30s, as the body slows down the production of collagen and elastin.  The triangular-shaped area beneath the chin (known to dermatologists as the sub-mental) is prone to two loose types of unwanted change – either an accumulation of fat (known politely as 'submental fullness' or in layman's terms a double chin), or a reduction in fat and muscle tone with skin laxity (more commonly known as turkey neck, droopy jowls or sagging chin).
Whichever category you fall into, submental fat plays an important role in the appearance of a youthful neck, and there are several proven non-invasive treatments to restore the submental to its former glory (or at least make noticeable improvements).
Taking action can be hugely uplifting (pun intended!), as one intrepid journalist from Esquire Magazine found, after visiting our Harley Street rooms for double chin tightening treatment.  You can read the full story here.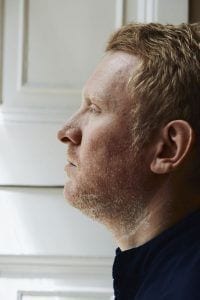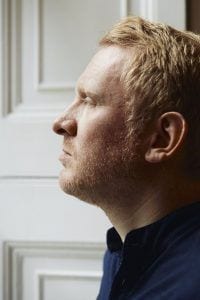 "My double chin has utterly and completely vanished.  My jawline looks noticeably more symmetrical and chiselled."
How to get rid of turkey neck or sagging jowls
The gold standard treatment for under-chin skin tightening is Ultherapy, which uses micro-focused ultrasound to stimulate new growth of collagen and elastin.  First licensed by the FDA (Food and Drug Administration) for neck lifts in 2012, Ultherapy has undergone extensive clinical evaluation for efficacy and safety.  We have been using it in our practice, with excellent results, over many years.
During a treatment, ultrasound is focused with pinpoint precision at up to 4.5mm below the skin's surface, causing heating to occur in the deep layers, but leaving the surface and tissues in between undisturbed.  The technology enables us to visualise the target tissue on a screen, so we know exactly where to treat to achieve the desired tightening and lifting. Watch the video to see exactly how Ultherapy works – in this case, for the neck, face and decolletage.
The procedure can be completed in under an hour, and any redness generated usually disappears within a few hours.  Some of our patients experience slight swelling, tingling or tenderness to the touch, but these are generally mild and transient.  The skin should become noticeably firmer at around two months post-treatment and will continue to improve for around six months.  The majority of patients need only one treatment.
How to remove a double chin
Removing excess chin fat can usually best be achieved by CoolSculpting, using a specially designed applicator that fits comfortably under the chin. CoolSculpting deploys controlled cooling to freeze fat cells, which results in their destruction.  The benefits of CoolSculpting can usually be seen within two to four months, with a reduction in chin size of approximately 20 to 25% after one session.  Follow-up treatments generally result in further improvement.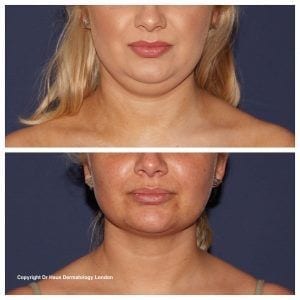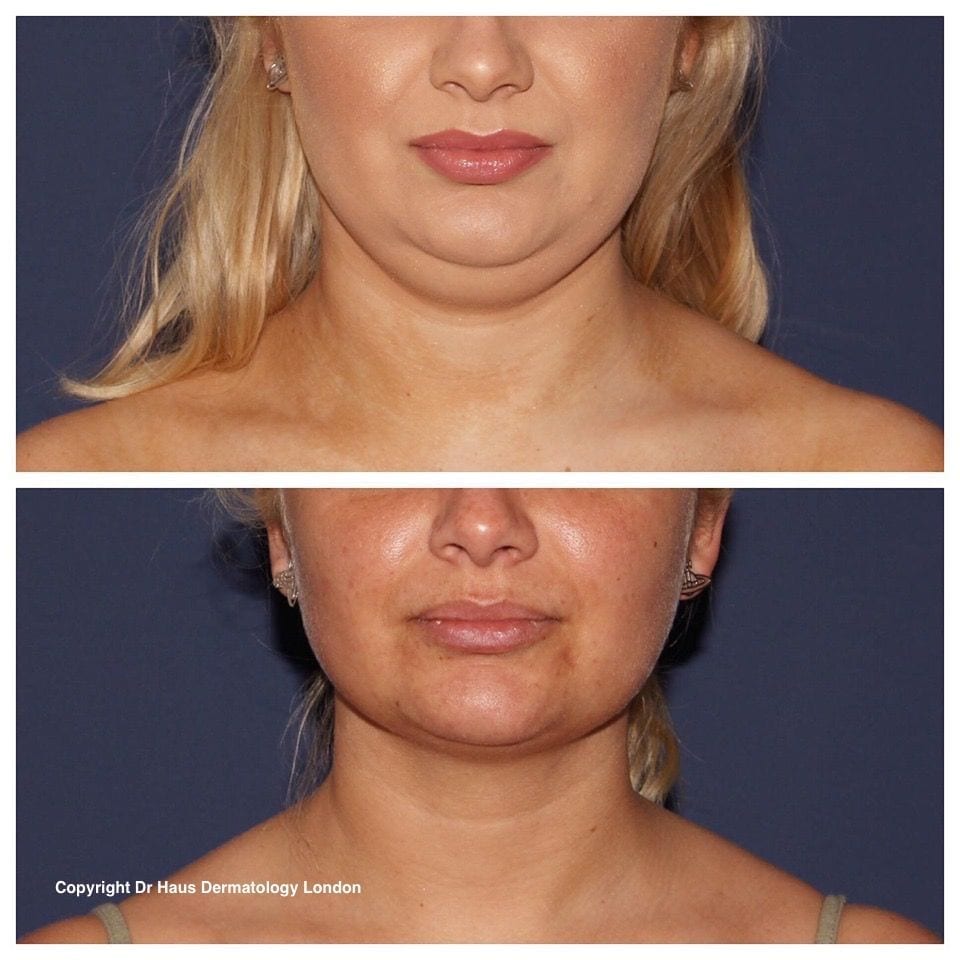 At our clinic we normally follow up CoolSculpting with Radiofrequency Skin Tightening, which works by sending a narrow beam of energy deep into the skin.  It can also be used as an alternative to Ultherapy to tighten skin under the chin.
Who is neck firming treatment for?
If you're somewhere in your thirties or older and have begun to notice a little face and neck laxity creeping in, then you're probably a good candidate for treatment.  If you find yourself frequently looking in the mirror and doing what Dr Haus did (see his comment above), you should definitely talk to us!
While the treatments described here could never replace a surgical neck lift, they do achieve noticeable improvements, without the need to go under the knife, or even suffer any downtime. They offer fresh, natural-looking results for busy people who want to make the best of themselves, but are not yet ready (and may never be ready) to take the surgical route.
To learn more, or to book a complimentary assessment to see if Ultherapy or CoolSculpting might be right for you, please telephone us on +44 20 7935 6358, send an enquiry via our Contact Page or email [email protected].