Dr Haus introduces elos Plus
Dr Ariel Haus is pleased to announce the arrival of the new elos Plus from Syneron to his Harley Street Clinic. Approved by the FDA in the United States and launched in Europe only last Summer, Dr Haus is the first Dermatologist in the United Kingdom to have the elos Plus.
The elos Plus contains Syneron's proprietary elos technology, which is the world's first and only technology that incorporates optical energy (laser or light) and bipolar radio frequency to provide safe and effective treatments. Less optical energy, which when combined with bipolar radio frequency, improves safety for all skin types.
The elos Plus features: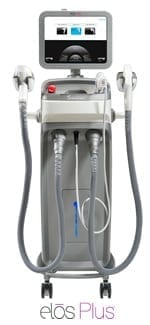 Sublime Collagen Creator Treatment – virtually painless facial treatments to reverse the signs of ageing without downtime. Conventional skin treatments are time and treatment intensive, and often too painful for many patients. Sublime provides firm and contoured skin – without surgery.  The combined bipolar radiofrequency and light energies of elos technology precisely heat the dermal tissue, stimulating collagen production within the target treatment area. Fine wrinkles are reduced, facial contours improved and overall skin quality reveals a much smoother and even complexion. Sublime is ideal for treating sagging under the eyes, saggy brow lines, and nasolabial folds (the lines that run from the side of the nose to the lips).
Sublative Rejuvenation Treatment – a gentle skin resurfacing treatment to smooth out the lines of time by improving wrinkles, scars and stretch marks through bipolar radio frequency. Radio frequency energy is precisely directed the skin in the form of a matrix to induce skin injury and healthy skin around the dots accelerates the healing process of the skin. Post treatment, new collagen and healthy skin cells are produced. Mild to moderate wrinkles and superficial skin discoloration is reduced. The texture of your skin becomes more smooth and elastic. This technology has been shown to effectively treat mild to moderate wrinkles, red and brown spots (eg. pigmented lesions such as freckles, sunspots & age spots) and textural irregularities.
Motif Painless Laser Hair Removal – safe and gentle long-term hair removal. elos is the first and only technology that uses combined energies to effectively and gently remove hair. Only elos technology is proven to remove lighter colored hair, on all skin tones. Suitable for use on the upper lip, cheeks, chin, neck, breasts, stomach, arms, shoulders, bikini, legs & back.
Acne Treatment – Acne occurs when a sebaceous oil gland surrounding a hair follicle becomes clogged with oil and dead skin cells. Bacteria growth in this clogged environment causes infection and acne blemishes.  The combined bi-polar radio frequency and blue light energies of elos technology penetrate the skin to precisely target and destroy active acne causing bacteria, while also slowing excessive sebaceous oil production. Treatment helps in reducing active acne and speeds up healing time of existing acne.
Facial and Leg Veins – The elos Plus is also excellent at treating facial and leg veins by precisely targeting and heating the unwanted vein but at the same time, protecting the surrounding skin.
The elos Plus is the ultimate multi-application platform, combining numerous cutting edge treatments in the one machine and is equipped with the most advanced features for optimum speed, safety and performance. With the addition of the elos Plus to his Harley Street Clinic, Dr Haus is now able to offer his patients a complete range of non-invasive and minimally invasive procedures.
Please contact us to make an appointment.