Dr Haus Named Tatler Top Doctor!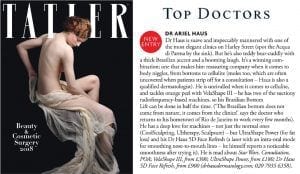 Widely considered one of the go-to sources for patients trying to find the latest aesthetic treatments and the best Dermatologists and Plastic Surgeons performing them, the Tatler Beauty & Cosmetic Surgery Guide has added Dr Ariel Haus to their prestigious list of Top Doctors.
'Dr Haus is suave and impeccably mannered with one of the most elegant clinics on Harley Street…He is unrivalled when it comes to cellulite, and tackles orange peel with VelaShape III – he has two of the suctiony radiofrequency-based machines, so his Brazilian Bottom Lift can be done in half the time…He has a deep love for machines – not just the normal ones (CoolSculpting, Ultherapy) – but UltraShape Power (for fat loss) and his Dr Haus 5D Face Refresh (a laser with an intra-oral mode for smoothing nose-to-mouth lines).'
We couldn't agree more!