Lanluma and the Pursuit of Perfect Form
We know we shouldn't but we just can't help it. 
We are programmed to visually appreciate shape and symmetry and find beauty in balanced form. In nature and our bodies.
And so sometimes as we age, we feel frustrated should we lose volume or sag in places that disrupts our preferred form.
That is why at Dr Haus Dermatology we wanted to be one of the first places to offer our patients Lanluma collagen stimulating injections.
Designed for both body and face, Lanluma reshapes, restores and rejuvenates by triggering the release of our own natural collagen, making it an ideal treatment for skin that is losing some of its former suppleness and form. 
How Lanluma Differs from Dermal Fillers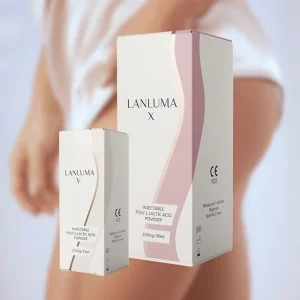 Rather than filling areas you'd like to improve with gel, Lanluma puts potent PLLA particles to work that activate your own natural stores of collagen. 
PLLA – poly-l-lactic acid – is a bio-stimulator that stimulates your own skin to produce that elixir of anti-ageing treatments, natural collagen.
It is noted for its efficacy in restoring fullness to depressed areas.    
Fast Treatment, Long Lasting Effects 
Lanluma treatment is quick and unlike some other collagen-stimulating treatments it can be done on the same day as your consultation if you desire.  It provides long-lasting results – sometimes lasting longer than two years.*
What Lanluma Can Help With  
Non-surgical bbl 

Lines and wrinkles 

Reshaping of body and face 

Face and body contouring

 

Restoring volume to the hands and decolletage 
And of course the confidence and sense of self-worth that comes from knowing you look your absolute best.
Lanluma Treatment at London's Leading Dermatology Clinic 
Following a consultation with a Dermatologist, the treatment area is sterilised and then a local anaesthetic is applied to ensure a comfortable experience.
The injections are then made in the area to be treated. 
Following your treatment you will be given advice on your post-treatment aftercare to ensure that you get the most effective results. 
Naturally our medical and nursing team will always be on hand for any questions or assistance that you require after your treatment.  
How long to see results, and how many treatments? 
Our Dermatologists will advise on the right number of Lanluma treatments for your body shape and objectives.
The stimulation of your own natural collagen develops gradually over 2-3 months after treatment.
BOOK YOUR CONSULTATION FOR LANLUMA TREATMENT AT LONDON'S LEADING DERMATOLOGY CLINIC  or call 020 7935 6358 
*(J Am Acad Dermatol 2010;62:448-62​)