When to get a mole checked.
Amidst all the drama of coronavirus, there's a quiet epidemic going on that few people are talking about – believe it or not, it's skin cancer. Skin cancer is becoming more and more common in the UK and melanoma, in particular, is the most rapidly increasing type of cancer of all.
Some of this increase may be due to better detection and diagnosis, but most is thought to be linked to changes in holiday exposure – with more people travelling to sunnier places in recent years. Greater use of sunbeds may also be a contributing factor.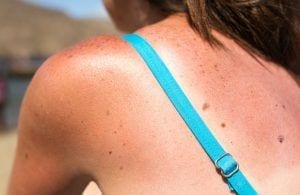 At Dr Haus Dermatology, we specialise in treating the full range of medical skin conditions, and our mole clinic encompasses mole checking, mole mapping, mole removal and screening of removed moles for cancerous or pre-cancerous signs.
Our beautiful, historic premises, personalised approach to care and experienced team of dermatologists are just a few of the reasons patients come to us and keep coming back.
They rely on us to identify and keep track of their suspicious moles, and to keep their skin free from lesions that might lead on to skin cancer.
The three types of skin cancer
Melanoma
Melanoma is the most serious form of skin cancer, and the fifth most common type of cancer in the UK. According to Cancer Research UK, around 16,000 new cases are diagnosed every year, and 2,300 people died from the disease between 2015 and 2017. We can confirm this worrying trend – our dermatologists are seeing more cases on the ground than ever before. Women are affected more often than men, and those with freckles or moles are at higher risk.
Melanoma arises out of a problem with the melanocytes, the pigment-producing cells in the skin, which are concentrated in moles. This is why it is important to examine moles regularly for any changes.
Identifying melanoma can be tricky, as there are several different presentations. Please see below for the ABCDE system for identifying cancerous moles.
Squamous Cell Carcinoma (SCC)
SCCs most often appear as a scaly or crusty raised area of skin with a red, inflamed base. They account for over a fifth of all non-melanoma skin cancers. Like other skin cancers, they are thought to be caused by too much sun exposure. This appears to affect skin cells in the outer layer, stimulating them to grow in an out of control manner.
SCCs are more common in people with fair skin, but they are also diagnosed more often in people with lowered immunity due to medical treatment, conditions that affect the immune system and organ transplants. The recommended treatment for an SCC is usually surgical removal.
Basal Cell Carcinoma (BCC)
BCC is a non-melanoma skin cancer (NMSC) and the most common type of skin cancer, accounting for over 80% of cases. BCCs can occur anywhere on the body, but are most often found in places that are regularly exposed to the sun, such as face, head, neck and ears. They are more common in people with fair skin, and most often appear as a scab that bleeds and does not heal completely.
Thankfully, they can be cured in almost every instance and are rarely a cause for serious concern. Treatment of a BCC will depend on the type and location of the lesion but options include photo dynamic therapy or surgical removal.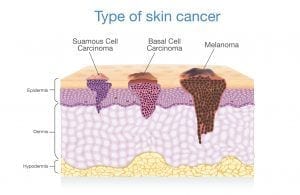 Skin moles to worry about
While NMSCs are important to identify, melanoma is clearly the one to be most vigilant about. Given the rising tide of melanoma, identifying suspicious moles through regular mole checks is a matter of prudence, especially if you have many of them.
Health authorities recommend that you check your skin once a month, to see if there are any changes. A friend or family member can help, particularly with checking areas that you cannot easily inspect, such as your back.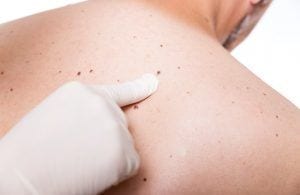 One helpful approach, recommended by the British Association of Dermatologists for identifying cancerous moles is 'ABCDE', a system that provides enough information to ring alarm bells, and suggest the need for an expert opinion.
Identifying cancerous moles – ABCDE
Asymmetry – the two halves of the area may differ in shape.
Border – the edges of the area may be irregular or blurred.
Colour – this may be uneven. Different shades of black, brown and pink may be seen.
Diameter – most melanomas are at least 6mm in diameter. Report any change in size, shape or diameter to your doctor.
Expert – if in doubt, check it out! A dermatologist is best qualified to diagnose a skin cancer.
What is mole mapping?
Mole mapping is exactly what it sounds like – a map of your moles, that can be drafted at regular intervals to check for any changes. This is especially helpful for keeping an eye on suspicious moles. At Dr Haus Dermatology, our state-of-the-art FotoFinder Mole Mapping Technology allows us to see even the smallest of changes to a mole or moles. Using this highly sensitive technology, we can create a comprehensive, computer-driven mole map for your entire body, and monitor your moles at regular intervals in a very precise way.

Mole checks, mole map and private mole removal
Our London mole clinic offers many other diagnostic and treatment services for non-cancerous, pre-cancerous and cancerous skin lesions. We carry out thorough mole checks which, in the first instance, involves an in-depth visual examination of moles on your face and body.
If there are any that the dermatologist is concerned about, they will use a high-powered skin surface microscope, known as a dermatoscope, to check for signs of melanoma and non-melanoma skin cancer. This screening process identifies patients who would benefit from further monitoring with our mole mapping technology.
If, following visual checks and dermoscopy, your dermatologist recommends mole removal, they are well qualified and equipped to perform the procedure. Once removed, the specimen will be sent to an outside pathology laboratory to see whether it is cancerous or not. We then contact you within 72 hours to let you know the results.
Every mole check and mole map is carried out by an experienced dermatologist, and we always provide a full, written report of the findings, as well as any recommendations for your further treatment.
Mole removal near me?
Our mole clinic in London is second-to-none, and our dermatologists are highly experienced in every aspect of skin screening, diagnosis and mole excision. All hold positions within the NHS, and you can have absolute confidence in the integrity of their skills and recommendations. They can also examine other benign skin lesions, (like skin tags for example) and remove them if necessary.
We aim to provide the highest possible calibre of service, alongside the best possible medical care, with the most advanced possible technical innovation. Our practice is registered with the Care Quality Commission (CQC), and we are proud that we receive consistently positive patient reviews.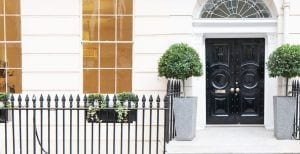 Conveniently located in Central London, close to transport, Regent's Park and luxury shopping precincts, visiting us is easy, relaxed and well worth the effort for the promise of peace of mind in relation to your skin.
Mole removal London
To learn more, find out more about mole removal cost, or book an appointment with one of our experienced dermatologists, please telephone us on +44 20 7935 6358, send an enquiry via our Contact page or email [email protected].