Non-Surgical Face Lift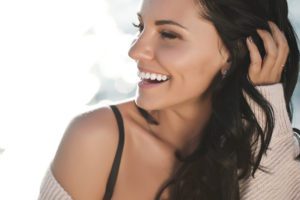 One of the first signs of ageing is a loss of condition around the lower face and neck. For many of our patients, this is the number one area they want to address as they start their journey of skin rejuvenation. The 'saggy neck syndrome', be it loose neck skin or double chin, has often become a real concern, and a trigger for seeking out skin tightening treatments.
At Dr Haus Dermatology, we specialise in the 'non-surgical face lift' so popular among A-list celebrities and appearing in the news of late. Administered in our Dermatologist led clinic, these proven procedures have the advantage of little to no downtime, low risk of complications and excellent results – especially when pursued consistently over time.
But there are other approaches that should be considered before choosing a treatment pathway. Here, we give a brief overview of the different options available, starting with the most invasive (surgery) and ending with the least invasive (exercises and topical creams).
What happens with a surgical face lift?
Gone are the days of the 'wind-tunnel' nip and tuck – surgical face lifts are now much more sophisticated than they used to be.
There are many different types of procedure but, generally, a surgeon will make cuts (incisions) above the hairline at the temples and under the chin. Excess skin is removed and the remaining skin is pulled backwards and upwards, before being stitched into position. This usually involves an overnight hospital stay, as well as time off work and social downtime. As with any operation, there are side effects which will vary from patient to patient and the need for a general anaesthetic.
It may take time to see the full effect, but the results are usually natural-looking and long-lasting, with no need for ongoing top-up treatments.
What about non-surgical face lifts?
Non-surgical or non invasive face lifts are a quantum leap from surgery in terms of convenience and clinical risk, and the results and patient satisfaction ratings are reliably positive.
These procedures fall into two main categories – minimally invasive and totally non-invasive procedures (see below) – which are now much more popular than surgery. There's a significant cost advantage with non-surgical procedures too.  Some of the treatments are priced in the hundreds, rather than thousands, of pounds.
Excellent treatments like injectable dermal fillers, Profhilo and Botox belong in the minimally invasive category because they do physically penetrate the skin; but compared with going under the knife, their disadvantages are negligible. They are relatively quick to perform, have a rapid recovery time and manageable 'ouch' factor, making them suitable to a broad cross-section of patients.
Dermal fillers restore volume in areas where fullness has been lost, and enable the dermatologist to sculpt back in youthful vitality. A filler may be used to correct nasolabial folds, for example, whereas Profhilo may be used to achieve bio-remodelling and improve skin laxity. Both types of product (but Profhilo, in particular) are designed to keep skin fully hydrated, and restore lost glow.
Botox is a tried and trusted treatment, injected to soften deep wrinkles and relax the downward-pulling movement of face and neck muscles. Doctors in the UK also prescribe it routinely to treat various medical conditions, aside from cosmetic applications.
These are just a few of the minimally invasive treatments available – other popular procedures include thread lifting and radiofrequency micro needling.
How are these different from a non invasive face lift?
Ultherapy is considered the gold standard non-surgical face lift treatment. It allows for face and neck tightening at levels closer to where a surgeon would operate.
Unlike the treatments discussed so far, Ultherapy is 100% non-invasive, and uses ultrasound to stimulate deep skin layers, while leaving outer skin layers completely undisturbed. While it is not a substitute for a surgical facelift or neck lift, Ultherapy appeals to patients who want to achieve a lifting or tightening effect without surgery or any other cutting or damage to the skin.
Ultrasound stimulates the growth of new collagen and elastin, and can be focused with pinpoint precision to achieve targeted tightening and uplift. For a more detailed look at exactly how Ultherapy works, please see this earlier post.
Totally non-invasive removal of chin fat can be achieved with Coolsculpting, which uses a specially designed applicator that fits under the chin. Coolsculpting freezes fat cells, resulting in their destruction and natural elimination from the body. A potential reduction in chin size of approximately 20 -25% is possible, even after one session.
At our clinic, we normally follow up CoolSculpting with Radiofrequency Skin Tightening, which works by sending a narrow beam of energy deep into the skin, again bypassing disruption to the outer skin surface. It can also be used as an alternative to Ultherapy to jowl lift and tighten neck skin.
Do facial exercises & skin tightening creams work?
At the opposite end of the surgical spectrum are the even more conservative measures, such as face and chin exercises and topical creams. There is scientific evidence to suggest that facial exercises can be effective in improving facial ageing outcomes, though it may be a slow process! Details of exercises are beyond the scope of this article, but there are many good resources that demonstrate simple techniques – a search for 'anti-ageing face yoga' is a good place to start. There is also evidence that topical creams can be effective in improving the signs of ageing – read this article for more information.
Need help choosing a face lift without surgery?
At Dr Haus Dermatology, our extensive experience with non-surgical face lifts and neck lifts as well as our range of available treatments, means that we carry out these treatments day in day out.  Our world class team of talented Dermatologists, many of whom hold senior positions within the NHS, are hand-picked for their kind manner and passion for cosmetic skin treatments.
Do you offer appointments for non-surgical facelift near me?
If you have decided you want to take action, but are not sure which approach is right for you, start by speaking with one of our experienced team members at our Harley Street Dermatology Clinic. They have all the knowledge, experience and understanding to guide you through the process, based on your own unique set of circumstances.
You can contact us by telephone on +44 20 7935 6358, send an enquiry via our Contact Page or email [email protected].