Ever thought of perfecting your profile? Welcome to amazing Profhilo.
As a dermatology clinic, we're not talking Facebook or LinkedIn profiles here –though goodness knows, we could probably all do with a little work on our social media descriptions! Rather, we want to shine a light on Profhilo, an amazing non-surgical tissue lift treatment that dermatologist, Dr Haus, has been offering at his Harley Street clinic since its UK launch in 2016.
What is Profhilo? 
Profhilo is a first-of-a-kind injectable, used to remediate skin laxity and restore firmness and elasticity. Like dermal fillers, its formulation is based on hyaluronic acid (HA). Unlike a filler, however, Profhilo offers unique remodelling capabilities and an advanced level of skin hydration, which is why it is sometimes known as an 'injectable moisturiser'. This moisturising effect is a function of the way it works with the body to stimulate the production of collagen and elastin (the skin's natural building blocks), deep in the dermal layers.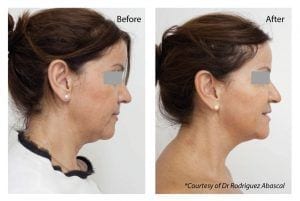 How is Profhilo different to dermal fillers? 
Profhilo can be thought of as a step ahead of traditional fillers, because of its robust lifting effect, and capacity to improve skin volume through increased hydration. It penetrates deeper into the skin, reaching previously hard-to-treat areas, where it slowly releases hyaluronic acid to trigger the production of four different types of collagen and elastin. Dr Haus says of Profhilo's mechanism of action:
"We should think of our body as containing a reservoir of HA.  With Profhilo we send a message to the body to produce its own collagen and increase the reservoir."  
Profhilo results in effective tightening and remodelling of skin, and is becoming an increasingly popular treatment among patients seeking to refresh problem areas around the eyes, neck, chest and décolletage. Some have described it as providing gentle 'scaffolding' for younger-looking skin.
Other advantages over dermal fillers include the need for fewer injection points, and a shorter clinic treatment time.
What does Profhilo treatment entail?
Profhilo is popular for use on the face, but it can also be used to achieve skin tightening on the neck, inside upper arms, and any area prone to skin laxity. The gel is delivered in pre-filled syringes and each treatment typically takes about 15 minutes to complete. Prior to the injections, skin is cleansed and a topical anaesthetic applied to minimise discomfort.
How long does Profhilo last?
The results of Profhilo treatment are not permanent, but they will last for around three to four months, at which point treatment may be repeated. It typically requires two initial treatments spaced one month apart to begin the process. Patients generally experience a noticeable difference immediately after the first treatment, but the best results will be visible several weeks after the second treatment.

Is Profhilo tried and tested?
With nearly one million treatments performed to date, Profhilo has quickly become a popular 'third way' injectable option, alongside neurotoxins and dermal fillers. It has won numerous awards, including the 'Aesthetics Award for Product Innovation of the Year' in 2016, and the 'Award for Best Injectable Product in Europe' at the Aesthetic Industry Awards in 2018.
Italian manufacturer, IBSA (Institute Biochemical SA), was founded by a group of Swiss biologists in 1945, and is now leveraging its distinguished experience in pharmaceuticals and technology to develop dermatological treatments based on hyaluronic acid. Profhilo is, perhaps, the jewel in their crown. With a presence in more than 80 countries, IBSA is well positioned to support Profhilo's rapidly growing adherents.
Profhilo at Dr Haus Dermatology
If you are interested in finding out more, contact us at Dr Haus Dermatology. Our extensive experience with this procedure means we can walk you through everything you need to know, and help you decide if Profhilo might be right for you.