Treating Acne and Sun Spots with Light!
Happy to announce that we now have an exciting new light based treatment that can be used for conditions as varied as acne to sun spots!
Kleresca is a novel form of light treatment that involves the application of a bright orange gel to the skin that with the help of a patented lamp, turns light into energy that works at the skin's cellular level to stimulate its own repair mechanisms.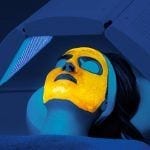 Inspired by how we know photosynthesis works on plants, Kleresca works as a drug free treatment for acne.   It is also an excellent treatment for removing sun spots and in addition to the face, it can be used on the décolletage and hands.
Contact the Dr Haus Dermatology Reception Team on 0207 935 6358 if you would like to know how it could help you!