What Is Ultherapy?
Ultherapy is a treatment that we have offered at our clinic on Harley Street in London for a number of years, but it is still as popular as ever.   So we thought it was time to take a detailed look to see what makes it different from other non-surgical treatments for the face.
Ultherapy History
The research that led to what is now known as Ultherapy, first began in 1998.  For the best part of the following decade it underwent pre-clinical evaluation and then clinical evaluation for safety and efficacy.
In 2009  United States FDA Clearance was obtained for the use of Ultherapy to achieve a non-invasive brow lift.
From 2012 to 2014 there was further FDA Clearance for the use of Ultherapy for:
non-invasive neck lifts
under chin lifts and
improvement of lines and wrinkles on the décolletage.
Over 1 million people have been treated with Ultherapy worldwide to date.  It appeals to those patients who want to achieve a lifting effect without surgery or any other cutting or damage to the surface of the skin.
What Makes Ultherapy Different?
Ultherapy uses 'micro focussed ultrasound with visualisation' to deliver heat at layers deep within the skin.  This then starts a process which will eventually stimulate the production of new collagen and elastin.  Collagen and elastin are the 'building blocks' of our skin and so by targeting them, treatment with Ultherapy gives you a gradual but eventual lifting effect.
Ultherapy is different to other treatments like Laser and Radiofrequency, which also use energy, because of the depth at which it is working.
Lasers are extremely precise, but can only treat skin conditions that are present closer to the surface (e.g. pigmentation problems, melasma, sun spots, fine lines and wrinkles).  Radio-frequency reaches deeper than lasers, but imprecisely bulk heats tissue at variable temperatures and depths.
During an Ultherapy treatment, ultrasound is micro-focused below the skin's surface to cause pin-point heating.  Similar to a magnifying glass focusing sunlight, heat is only generated at the focal point, leaving the skin's surface and intervening tissue unaffected.
As can be seen from the image below, Ultherapy works at up to 4.5mm below the skin surface where the muscles are located and this is the depth at which treatment is necessary in order to lift the skin.  The only other way to reach this depth in the skin is with plastic surgery although Ultherapy is not a complete substitute for plastic surgery.
How Do We Know Where To Target The Ultrasound?
One of the ways we ensure ultrasound is delivered exactly where we want it, is because we can monitor through a screen on the device the area of skin tissue we are about to treat.  This ultrasound visualisation ensures that the energy is delivered to where it will achieve the best result.  Only Ultherapy offers this see and treat technology, which enables surgical precision but without an incision!
Who Is A Good Candidate For Ultherapy?
A good candidate for Ultherapy is someone with some degree of laxity to the point of looking and feeling less firm.  Loose skin under the neck and under the chin, or lines and wrinkles on the chest are signals that someone might be a candidate.
Men and women in their 30s and older who have mild to moderate skin laxity are usually good candidates.  While Ultherapy is not a replacement for a surgical facelift, there are many people who want some facial lifting but are not mentally ready for, or prepared to undergo surgery.
During Your Ultherapy Treatment
After cleansing the skin and identifying the specific areas to be treated, we will apply ultrasound gel and place the smooth treatment applicator against your skin.  We will then use Ultherapy's ultrasound imaging that allows us to see deep within the skin and start the treatment.
How Long Is A Treatment?
The length of your treatment will depend on the area being treated and your individual treatment plan.  A face and neck treatment typically takes 60-90 minutes, while a chest treatment takes about 30 minutes.
What Does Treatment Feel Like?
During the treatment you will feel tiny amounts of energy being deposited to precise depths which some of our patients describe this as similar to being stung with tiny elastic bands, but that only lasts while the energy is being delivered.  We offer options for pain control and for most people it is well tolerated.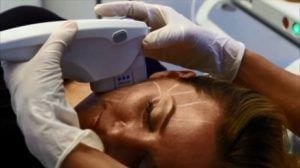 How Many Treatments?
The majority of patients only need one treatment; however, some may benefit from more than one treatment, depending on how much skin laxity they have and their body's own biological response to the ultrasound and the collagen-building process.
Ultherapy Aftercare
With Ultherapy there is no downtime!  You can return to your normal activities immediately afterwards without any post-treatment restrictions or requirements.
Your skin might appear flushed at first, but the redness should disappear within a few hours. Some of our patients experience slight swelling, tingling or tenderness to the touch, but these are mild and temporary in nature.
Less common post-procedural effects may include temporary bruising or numbness on small areas of skin.  As with any medical procedure, there is the possibility for other rare effects, which we will inform you about before the treatment commences.
When Will I See The Results?
Results will start to be visible from about 2 months after the treatment and improvement will continue to develop up to about 6 months post treatment.
How Long Will The Results Last?
Since the procedure stimulates a person's own collagen production, how long the results last depends on the individual.  The treatment produces new collagen on the inside, but the individual's natural aging process will dictate how long that translates into visible results on the outside.  Future maintenance treatments can help provide more control over the ageing process, which varies from person to person.
How Much Does Ultherapy Cost?
Ultherapy treatment at our clinic starts at £850 and varies according to whether it is a Dermatologist or Nurse/Clinical Practitioner performing the treatment as well as the areas being treated.
Ultherapy is priced at the higher end of non-surgical skin treatments but there are a number of factors to keep in mind.
First, Ultherapy is a treatment that usually only needs to be done once although further treatments after a period of time has passed are possible.
Secondly, how much you can expect to pay will first depend on the location of the clinic where you are being treated – if the clinic is in an area where rents, business rates and other operating costs are high.
Thirdly, the number of lines (or shots of energy) being used in the treatment will be very relevant.  The manufacturers of Ultherapy recommend that a minimum number of lines are used per area treated.  This is so as to achieve the best final results.  Clinics carrying out Ultherapy need to purchase these lines and therefore the number used in your treatment will impact on the price.
Authentic FDA Approved Ultherapy Only
It is important to know that there are many treatments being promoted as Ultherapy, or HIFU (High Intensity Focused Ultrasound) but they are not using the FDA Approved Ultherapy device.  Ultherapy is the ONLY FDA cleared, non-invasive procedure for lifting and tightening the neck, chin and brow.
If ever you are quoted a price for an Ultherapy treatment that is significantly below what other clinics in the same area seem to charge, then make sure to ask for confirmation that the treatment will definitely be with Ultherapy and not a less expensive and less proven substitute.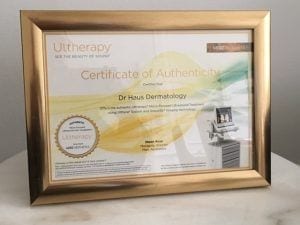 If you would like to make a booking for a complimentary no-obligation assessment with a Clinical Practitioner to determine if Ultherapy might be suitable for you, then please telephone us on +44 20 7935 6358, send us an enquiry on the Contact Us Page or email [email protected].
Responses to treatment will vary from person to person and may even vary in the same person over time. It is for this reason that results are not guaranteed.