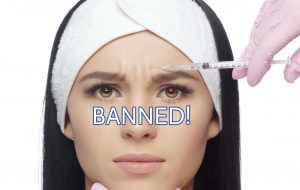 While Botox for cosmetic use always seem to be in the news, with regular stories of Botox gone wrong, at the moment it's attracting more attention than usual.
The Committee of Advertising Practice announced in early January that from 1 February they would crack down on the promotion of Botox on social media – a move we fully support.
While the focus on social media suggests the regulator is concerned about the effect of Botox advertising on younger people, we thought it was an appropriate time to take a more detailed look at this sometimes controversial treatment.  Some of the facts about the age almost 50% of people get these injections, what else Botox is used for and who is allowed to inject it, may surprise you.
Have The Rules Actually Changed?
While many people think the rules have changed, they have always been clear.   Botox is classed as a medicine, and promotion on social media, including the use of before and after photographs and special offers, breaches the prohibition on advertising prescription medicines to the public.
The advertising regulator have said they will use technology to identify social media accounts which continue to break the law – sanctions could include reporting them to the MHRA (regulator for medicines) or their own professional regulator.
What Is Botox?
The word Botox is now ubiquitous, with the marketing name of a specific product also used as the common term for injections containing Botulinum Toxin Type A.  Botox (Botulinum toxin) injections relax the muscles in your face to smooth out lines and wrinkles, such as crow's feet and frown lines. [1]
These injections are now the most widely performed aesthetic treatment globally.  The American Society for Aesthetic Plastic Surgery (ASAPS) reports that in 2018 over 1.8 million procedures using Botox injections to improve the appearance of lines and wrinkles were carried out. [2]  This translates as a procedure involving Botox for aesthetic purposes every 20 seconds – in the U.S. alone.
ASAPS  reports that that these procedures were performed across all age groups, with people aged 51 -64 accounting for 32.1%, and those aged over 65, for 12.9% of all treatments.  This may be surprising, as people can assume that over a certain age, such as 40, it is too late to do anything about lines and wrinkles on the face.
What Does It Mean That Botox Is A Medicine?
Botox is a prescription only medicine (POM) which means that before you can be treated with it, you must have a face to face consultation with a doctor or other medical professional who is authorised to prescribe medication.   However the popularity of Botox indicates that patients often request it as the treatment they want and so it is important for the medical professional prescribing it, to be satisfied that it's going to be appropriate for them.
In our clinic, where we focus exclusively on skin conditions, we are regularly asked do Dermatologists do Botox?   Of course Dermatologists do inject Botox, but we ensure that every patient who comes to us seeking this treatment first undergoes a face to face consultation with a Dermatologist, who will determine if it's the most appropriate treatment for them.
How Does Botox Work?
The Patient Information Leaflet for BOTOX – the official source of what the medicine has been licensed for – states:
Botox is a muscle relaxant used to treat a number of conditions within the body. It contains the active substance Botulinum Toxin type A and is injected into either the muscles, the bladder wall or deep into the skin. It works by partially blocking the nerve impulses to any muscles that have been injected and reduces excessive contractions of these muscles. In the case of chronic migraine, it is thought that BOTOX blocks pain signals, which indirectly block the development of a migraine.
When injected into the skin, BOTOX works on sweat glands to reduce the amount of sweat produced.
When injected into the bladder wall, BOTOX works on the bladder muscle to prevent leakage of urine (urinary incontinence) due to uncontrolled contractions of the bladder muscle.[3]
Therapeutic Use Exceeds Aesthetic Use
So while many people could be forgiven for thinking that BOTOX is only used to treat lines and wrinkles, it is also used for other conditions including persistent muscle spasms, headaches in patients with chronic migraine, urinary incontinence and excessive sweating (Hyperhidrosis).
In fact it is estimated that globally, the therapeutic uses for Botulinum Toxin (chronic migraine, spasticity, overactive bladder, cervical dystonia, blepharospasm and others) actually exceed aesthetic use.  In 2018 therapeutic uses accounted for 47.4% of all treatments, with aesthetic uses only 42.6%. [4]
Botox Is Approved For Temporary Improvement:
In the appearance of vertical lines between the eyebrows seen at maximum frown and/or
In the appearance of fan-shaped lines from the corner of the eyes seen at maximum smile and/or,
In the appearance of forehead lines seen at maximum raised eyebrows". [5]
This means that Botox injections can be used for treating glabellar lines, crow's feet and forehead wrinkles.
Who Can Inject Botox?
Even though Botox is a prescription only medicine, you may be surprised to know that a prescribing doctor (or anyone else legally qualified to prescribe such as a pharmacist or dentist) can delegate the actual injections to someone else.  While the person carrying out the injections will need to know 'how to inject' and the prescribing doctor should still exercise oversight, not all Botox injectors are created equally. There are courses titled 'Botox Training For Beginners' open to people such as paramedics and dental hygienists, lasting just ONE DAY.
While the vast majority of Botox injections are performed by the medical doctor (Dermatologist, Plastic Surgeon or Cosmetic Doctor) prescribing it, there are still people receiving this medicine without a proper face to face consultation with the person who has prescribed it, and by 'injectors' who lack the training and experience to deal with complications that could lead to a medical emergency.
Unfortunate stories regularly feature in the press about someone who has been injected at a 'Botox Party' or in someone's kitchen.  Botox should never be injected into a person who has been consuming alcohol or outside of a professional clinical setting.
Who SHOULD inject Botox?
At our Dermatology Clinic in Central London, only Dermatologists who are trained and sufficiently experienced at working with Botox inject it.  Dermatologists are medical doctors with extensive post graduate training and qualifications in dealing with the skin. A Dermatologist not only has the skills to give an injection, but can also diagnose and deal with any adverse reactions that may occur.  As medical doctors, Dermatologists are also subject to the strict requirement of the General Medical Council that they "must recognise and work within the limits of [their] competence." [6]  Failure to follow this overriding fundamental principle can lead to disciplinary action and being struck off as a doctor.
So while the legal framework in England may mean that someone 'can' inject Botulinum Toxin into another person after a course lasting just one day, the question we would ask is whether that person 'should' be doing it?
Is Botox Safe?
Like all medicines, Botox is not risk-free.  However provided it is injected by someone competent to do so, it is a medicine that can be regarded as relatively safe.  Botox was first used in medicine for therapeutic purposes in 1980, and was approved by the United States Food and Drug Administration for cosmetic use in 2002. [7]  It has remained the most commonly performed non-surgical cosmetic treatment worldwide for many years.
Botox Side Effects
According to the manufacturer, common side effects (up to 1 in 10 people) associated with Botox injections for lines and wrinkles include headaches, drooping of the eyelid, localised muscle weakness, face pain, skin redness, bruising and skin tightness.  Uncommon side effects (up to 1 in 100 people) include infection, anxiety, numbness and dizziness, swelling of the face and inflammation of the eyelid, eye pain or visual disturbance.  Eyelid swelling, feeling sick, dry mouth, muscle twitching, fever, flu manifestations and feeling weak are other uncommon side effects.  Additional side effects include sudden allergic reactions, which can be serious, difficulty in breathing and feeling faint.
The long list of known side effects means that for even the most experienced Dermatologist, a patient may have an adverse reaction to Botox injections.  Where this occurs, the Dermatologist's training will be vital in quickly identifying and managing the reaction.
How Long Does Botox Take to Work? 
According to the manufacturer, you will usually see an improvement within the first week after injection, although we advise that patients may not see maximum benefit for up to two weeks.  How long Botox lasts will be different in every patient (and in the same person it can differ over time), but generally the effects last for about 4 months.
How Much Is Botox?  
Prices for Botox vary enormously depending on the location of the clinic, qualifications and experience of who is going to be treating you, as well as the areas on the face being treated, but as a rule of thumb they can cost anywhere between £100 to £350 per treatment. [8]
Are There Alternatives To Botox? 
There are many alternative treatments to Botox.  We are often contacted by new patients who would like our help to get rid of their lines and wrinkles, but who do not want Botox.
If a patient does not wish to be treated with Botox, alternative treatments we may consider include injections containing Hyaluronic Acid (Dermal Fillers) or energy based treatments such as laser therapy or radio frequency.
So while there will hopefully be less images of Botox on social media in the coming weeks and months, this alone will not stop the people who have attended a one day course from being allowed to lawfully inject this medicine.  Until the law around who can inject Botox is changed, the safest option for anyone considering treatment to improve the appearance of facial lines and wrinkles is to consult a medical professional with advanced training in the skin, such as a Dermatologist, Plastic Surgeon or Cosmetic Doctor.
To see a Dermatologist to find out more about treatments for lines and wrinkles at Dr Haus Dermatology, please telephone us on +44 20 7935 6358 send us an enquiry on the Contact Us Page or email appointments@drhausdermatology.com.