A new solution for upper arm fat.
Brazilian Dermatologist Dr Ariel Haus is delighted to be one of the first doctors in London to offer a new treatment that has been specifically designed for removing upper arm fat.
Officially launched in the UK only last month, CoolAdvantage Petite is a fast and effective treatment for improving the overall appearance and tone of the upper arm.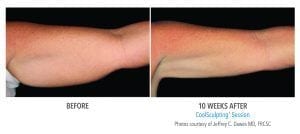 Dr Haus has been using CoolSculpting in his London Harley Street Clinic for some time now and with excellent results.  The addition of CoolAdvantage Petite to the suite of existing CoolSculpting Treatments, means there is now a specific solution for removing fat from an area of the body that is practically immune to improvement with just diet or exercise.
CoolSculpting is a non-surgical treatment that uses cold technology to freeze and permanently destroy fat cells.  As with other CoolSculpting Treatments, the destroyed fat cells from the upper arm are metabolised and flushed out of the body naturally.
The technology behind CoolSculpting was developed following scientists at Harvard University observing that children who ate popsicles got dimples in their cheeks.  These scientists realised that the popsicles were freezing and eliminating small pockets of fat cells!  Since then, more than 4 million CoolSculpting procedures have been performed worldwide.
CoolAdvantage Petite is the only FDA approved, non-invasive applicator on the market that is specifically designed to treat the upper arm.
"Many of my female patients tell me that they are worried about wearing short sleeved tops, due to the appearance of arm fat or what in the UK we call 'bingo wings'.  Even though we are now heading into cooler weather, I am hopeful that this new treatment will give my patients the confidence to wear their short-sleeved tops again."
Dr Haus on the new CoolAdvantage Petite Treatment.
Treatment time on the upper arm area will take just 35 minutes.  It's time to say good bye to bingo wings!